Recent Eagles Draft Rumors: Buy or Sell?
Author: Jorin Gerveni
As we approach the 2019 NFL Draft, rumors are floating around about what actions the Eagles will take on Thursday. Howie identified running back as a position of need at the NFL Draft Combine in Indianapolis last month – will he follow through on his word or was that simply a smokescreen?
The Eagles traded last year's #32 pick to the Baltimore Ravens (Lamar Jackson) for the 53rd pick in Round 2 of this year's draft. Here are the picks that Howie Roseman has to work with: Round 1-25; 2-53; 2-57; 4-127; 4-138; 5-163; 6-197. Remember the Eagles traded away a 3rd rounder for Golden Tate last season. So what should Howie Roseman and Co. do with their three Top 57 picks this year?
A few days ago reports came out saying that Baltimore Ravens (#22), Oakland (Las Vegas?) Raiders (#24 and #27), Indianapolis Colts (#26) and Philadelphia Eagles (#25) are all interested in drafting Alabama running-back (RB) Josh Jacobs in the first round of the 2019 NFL Draft tomorrow night – April 25th at 8PM. The Eagles have also been frequently linked to WR Marquise "Hollywood" Brown (Fun Fact: that's Antonio Brown's cousin). Here's what Peter King of NBC Sports had to say about Brown: "Some love him. Some think he's too wispy at 166, and they're worried that he enters the NFL nursing a foot injury, and he might be prone to injury in the big-boy league. But he is one big threat. Instinctive and fearless too. Could be that DeSean Jackson gives the Eagles one last season, and then Brown steps in as the deep threat Carson Wentz can grow with into middle-age." Then Ian Rapoport reported earlier today that teams view Agholor as a possible trade piece if the Eagles decide to draft a wide receiver (WR) this weekend. The previously mentioned reports are rather intriguing given that neither WR nor RB seem to be glaring needs for this Eagles roster.


Agholor Report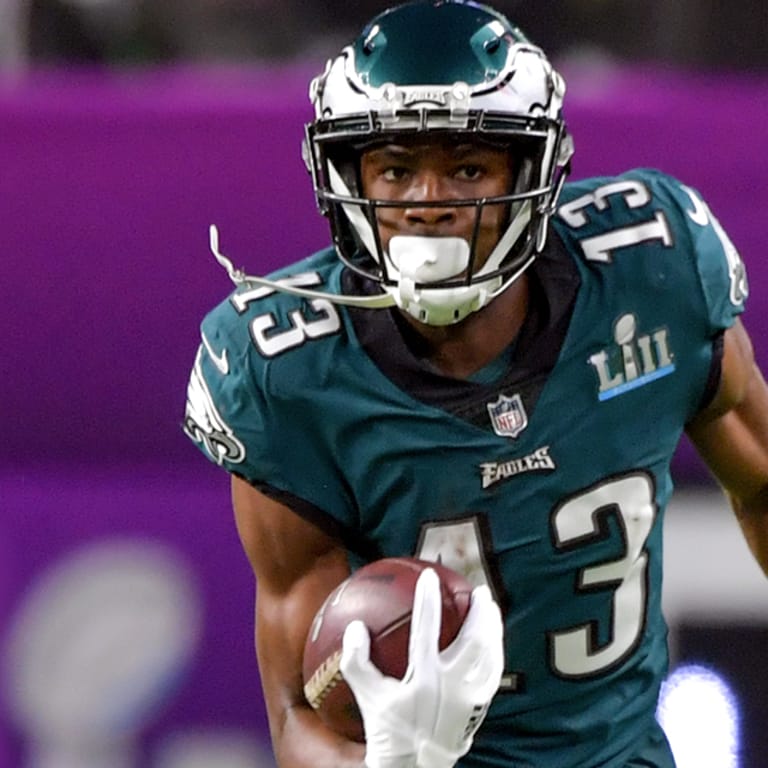 Trading away Nelson Agholor means the Eagles drafted a WR who they expect to take over the Slot/WR #3 role immediately as a rookie. With Mack Hollins probably taking the 4th WR spot, wasting a high draft pick to replace Nelson Agholor doesn't seem to make much sense.
Eagles are currently sitting on $21,639,518 of cap space so trading away Agholor's $9.2 mln contract is not necessary either, although that extra $9 million could be rolled into next season's cap space.
With Alshon Jeffery and DeSean Jackson taking the 1-2 WR spots, the expected development of tight-end (TE) #2 Dallas Goedert and the elite presence of Zach Ertz, keep an eye on Doug Pederson switching to more 12 personnel (1RB, 2TE) this season. The need for a WR #3 does not warrant a Top 57 selection.
If the Eagles decide to use a low pick on a developmental receiver, that would not threaten Agholor's spot for this season.
Although Hollywood Brown (5'10" – 166lbs.) proved to be one of the elite wide receivers in the nation during his 2 last years at Oklahoma (2413 yards, 17 TDs) and has some scouts drooling over his breakaway ability (maybe overestimated because of his cousin?), he also comes with injury/durability concerns.
Do the Eagles need a WR in the 1st round? Maybe not. I expect Howie to draft a receiver with by the end of Round 4. Even if a receiver is drafted in the first 2 rounds, I expect the Eagles to let the players compete for a spot, while keeping both on the roster. Agholor's familiarity and experience would allow the Eagles to keep an extra veteran presence in their offense while grooming his replacement at the same time.
It might prove smarter to keep Agholor for another year and then allow him to walk away next season. Losing Agholor in free agency next year would probably give the Eagles at least a compensatory 4th- or 5th-pick the following year. If Antonio Brown is worth 3rd- and 5th-picks, how much can you expect the Eagles to realistically get for Nelson Agholor with an expiring contract and $9.2mln cap hit?
Josh Jacobs Report

Howie identified running back as a position of need at the NFL Draft Combine in Indianapolis last month – will he follow through on his word or was that simply a smokescreen?
The Eagles haven't used a 1st-round pick on a running-back since 1986. Since Howie Roseman joined the Eagles in 2000, the team has used only 1 2nd-round pick on a RB: LeSean McCoy in 2009.
He has stated before that it is the higher draft picks that turn out to be the most dynamic players.
He also stated that he was content with the current RB group. None of the current RBs besides Jordan Howard have more than 1,000 career rushing yards nor more than 10 career touchdowns.
Speaking of Jordan Howard… The Eagles already have a Top-10 (if not Top-5) RB in their roster. Despite not being so much of a threat in the passing game, Howard is 3rd in rushing yards since he entered the league in 2016, trailing only Ezekiel Elliott and Todd Gurley. Howard is nowhere close to being the dual-threat mismatch nightmare that Todd Gurley, Le'Veon Bell, Ezekiel Elliott, David Johnson, Saquon Barkley, and LeSean McCoy have proven to be on a consistent basis.
Howard is on contract for only this season. If he has another Top 5 season at the age of 25, do you reward him with a 4 year/40mil deal he will most likely ask for? With Carson Wentz's mega-extension looming up and the Eagles recent strategy of RB by committee, the answer is a hard NO.
Running-back does not seem as much of a need following the Jordan Howard trade, yet that is not the case. According to Peter King, Howie questionably missed out on his target this off-season, Tevin Coleman (Falcons -> 49ers), who signed a team-friendly 2yr/$8.5mln deal. I would not be surprised if Howie is not content with the current running-back room, especially since Howard will most likely be playing elsewhere after next season.
Since many teams in the #22-27 range are interested in Josh Jacobs, expect Eagles and other teams to try jumping ahead of Oakland Raiders #21 who are also 'very interested' in Jacobs as well. Eagles certainly have the ammunition to do so. However, I highly doubt that will happen for the following reason:
RB is not a pressing position of need. Drafting Jacobs would likely require trading up. In a deep defensive draft where your top needs are defensive line, linebacker, offensive line and cornerback, I would expect Howie to trade down instead. This would probably give Eagles an extra 2nd or 3rd rounder at their disposal, without missing out on much.
Although Josh Jacobs is probably the best RB of this class, the Eagles have to address other short-term and long-term needs before they spend a 1st round pick on a RB for the first time in 33 years. Do the Eagles ignore other needs and try to find a long-term solution at a devalued position? A running back or wide receiver selection with one of the 2 2nd-round picks would be more likely in my opinion.